Devon Semen for SALE saboranch on 28 Jun 2015
Way back in the beginning we purchased many units of the original Rotokawa Devon semen, imported by Bakewell Reproductive Center before 2007. With some wonderful males and females in our herd representing each of these magnificent bulls, we have decided to let some of these straws go to others who might want to incorporate some of the ORIGINAL ROTOKAWA DEVON BULLS into their own herds.
LIMITED SUPPLY- FIRST COME FIRST SERVED.
Rotokawa 861- 40 units available, $55 each.
Rotokawa 667/95- 11 units available, $65 each.  We like every one of our 667 offspring.  Moderate framed, long bodied, great feet.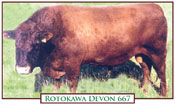 Rotokawa 974- 29 units available, $65 each (son of Rotokawa 667)  Beautiful, deep, long-bodied offspring.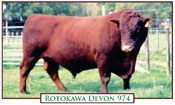 ROTOKAWA 663– 5 units available, $45/each.
This semen is stored in Montana.  Contact us at 406-685-3248, or saboranch1@gmail.com, with queries or to place your order.  Payment by check for semen can be sent directly to SABO RANCH, P.O.Box 65, Harrison, MT 59735.  Once the semen is purchased, we'll put you in contact with the shipper so you can find out your costs to ship the semen to your farm.
Mark and Jenny Sabo
SABO RANCH, 303 Pony Rd., Harrison, MT 59735  (406)451-6900
saboranch1@gmail.com