Category ArchiveDevon Cattle for Sale
Devon Cattle for Sale saboranch on 28 Jun 2015
SABO NOLAN, registered DEVON, is a beautiful, deep bodied, unpampered bull, raised here at Sabo Ranch at 5000′ elevation, 100% grass fed, in southwest Montana.  With many of his sisters in our herd this year, we are offering NOLAN FOR SALE.  We raise our bulls the way you want to run them- 15-20 lbs of 1st cutting alfalfa/grass hay in the winter, Helfter minerals, forage on dry land pastures all summer.  This bull is RAISED TO WORK!
NOLAN is gentle, trained to electric fence, fertile, and easy to manage.  Excellent feet and scrotum.  Dehorned.   NOLAN's dam Rotokawa 357 is our favorite Rotokawa Devon cow.
SABO RANCH, P.O.Box 65, Harrison, MT 59735.  (406)685-3248. saboranch1@gmail.com
Nolan's dam Rotokawa 357 with this year's calf at branding, mid June 2015.  We like this cow so much that we are pulling embryos from her this year.  Beautiful longevity udder, great hooves, deep bodied conformation. 

Rotokawa 357, SABO NOLAN's DAM, shows off her full tail switch and tight udder.  A full tail switch is said to indicate high butterfat and excellent hormonal health.  Conceived in New Zealand under Ken Mc Dowall's breeding prowess, she thrived through California's quarantine, Massachusetts blizzards and humidity, and Pennsylvania hill country.  She finally arrived here in December 2011 and has produced the best calf in the herd every year since then.  Longevity, fertility, docility- DEVONS CAN DO IT!
Call or email for more information.
SABO RANCH, P.O.Box 65, Harrison, MT 59735.  (406)685-3248. saboranch1@gmail.com
Devon Cattle for Sale saboranch on 28 Jun 2015
Way back in the beginning we purchased many many units of the original Rotokawa Devon semen, imported by Bakewell Reproductive Center before 2007. With some wonderful males and females in our herd representing each of these magnificent bulls, we have decided to let some of these straws go to others who might want to incorporate some of the ORIGINAL ROTOKAWA DEVON BULLS into their own herds.
LIMITED SUPPLY- FIRST COME FIRST SERVED.
Rotokawa 861- 50 units @ $125
Rotokawa 982- 5 units @ $75
Rotokawa 663- 10 units @$100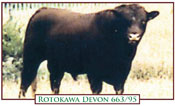 Rotokawa 667- 20 units @ $100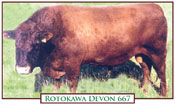 Rotokawa 974- 30 units @ $75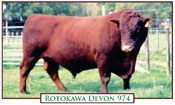 This semen will be stored at World West Sires in Montana.  Contact us at 406-685-3248, or saboranch1@gmail.com, with queries or to place your order.  Checks for semen can be sent directly to SABO RANCH, P.O.Box 65, Harrison, MT 59735.  You will pay World West Sires directly for shipping costs.  We will contact them to release the semen once we receive payment and the check has cleared the bank.
Mark and Jenny Sabo
SABO RANCH, 303 Pony Rd., Harrison, MT 59735  (406)685-3248
Devon Cattle for Sale saboranch on 25 May 2015
Sabo Ranch is pleased to announce the pending arrival of NEW DEVON SEMEN tested for sale in CANADA and the UNITED STATES in 2016.  Questions?  (406)685-3248, or saboranch1@gmail.com.
The PERFECT "Inline Outcross" for owners of Rotokawa Devon cattle!
TE MAEWA OBAN semen is traveling to the U.S. as this is written! Limited quantities will be available in 2016.
                                                 TE MAEWA OBAN 867/11  (see pedigree below)
This past winter, in January and February, Mark and I were pleased to tour numerous Australian and New Zealand Devon studs.   Lots of terrific bulls, and we are importing some of them soon– to be available in the US and Canada!  If all goes well, we'll be selling Te Maewa, Tapuwae, and VixDevons semen before long, tested for sale in both Canada and the U.S.
Graeme Dyk's Te Maewa Devon stud is a beautiful farm in the central north island of New Zealand.  Steep is not the word- many pastures would qualify as "precipitous"!  Yes, Te Maewa's Devons thrive here, scaling the paddocks, putting on pounds, and producing beautiful, deep bodied Devons with strength, gourmet quality beef, and fertility all in one package.
Two Te Maewa Devon lactating cows.  Demonstrating how to keep on weight in steep paddocks, and the beautiful conformation that is consistent in the Te Maewa herd.
Another beautiful Te Maewa cow, showing off the udders which we have selected with Te Maewa Oban's genetics.
Graeme, with four-wheeler and dog at the right, gathers heifers out of a paddock.  Incredible country, and the Devons move about like goats!
Having just tagged and weighed the calf, Graeme and the mother cow chat about its virtues.  Graeme keeps ONLY the calm cows!
QUESTIONS?:  Mark & Jenny Sabo, SABO RANCH, 303 Pony Rd., Harrison, MT 59735. (406-685-3248). saboranch1@gmail.com
Here's what Te Maewa owner Graeme Dyk has to say about his herd:
"The Stud, 120 purebred registered cows still mainly based on Rotokawa genetics, is run as a commercial operation, no pampering, indoor stalls or hard feed etc. All heifers are expected to calve unassisted as two year olds. Birth and performance recording with Breedplan are undertaken and all young stock are carcass scanned and blood tested BVD negative."
"Cattle are run in management groups to ensure cow breeding values are assessed correctly. The less efficient cows are culled to the works every year, the motto being (Breed with the Best and Cull the Rest). Cows are retired for age at fourteen years if still in the herd. Herd T.B Status is C10."
"Calving percentages of 100% have been achieved several years but is normally around 96-97%. Calves are weighed, tagged and recorded in the paddock as soon as they are seen and at three or four days old are debudded if needed and shifted further afield with mum to more tree sheltered paddocks. The top weaning weights achieved to date for bull calves is 360kg @ 224 days and hefiers 316kg @ 258 days. Winter supplements (hay and baleage) is given to calving cows to enable the feeding of magnesium oxide at a rate of 1 standard bale to 10 cows per day , and older bulls on crop to give them roughage. All young stock fend for themselves mixed in amongst sheep."
Sabo Ranch, (406)685-3248.  Harrison, MT 59735. saboranch1@gmail.com
Beef Cattle &Devon Cattle for Sale saboranch on 22 Sep 2014
While we have not yet chosen which heifers we will be selling next year, we guarantee that we only sell females that we would be happy to keep in our own herd.  We neuter and beef all animals that do not match up to our own breeding stock standards.
SOLD OUT of registered Devon females.
 SOLD OUT of Devon/Angus (red & black) females.
SEMEN AVAILABLE from SABO EBAN, pictured below, and SABO DANIEL, his full brother.  $30/straw, 10 straw (combined) minimum.  Email us with queries, saboranch1@gmail.com.
 We will have Devon/Angus heifers for sale, newly weaned and available for delivery/pick-up in April 2015.  Sired by Sabo Eban, they are deep bodied, gentle, and well mineralized for long term health.   Check with us after June 1, 2015, to see what our calf crop of DEVON/ANGUS heifers is for 2015!
Contact us for availability- saboranch1@gmail.com, 406-685-3248.  Harrison, MT 59735. 
So, with that in mind, we wanted to let potential buyers know
ONLY TWO REGISTERED DEVON HEIFERS available for sale in SPRING 2015 from Sabo Ranch. SOLD OUT.
We will start posting photos of 2015 calves when they start appearing in May and June.
Mark and Jenny Sabo, Sabo Ranch Grassfed, P.O.Box 65, Harrison, MT 59735.  (406) 685-3248.  saboranch1@gmail.com
Beef Cattle &Devon Cattle for Sale saboranch on 15 May 2014
We are proud to be able to support Kevin and Theresa Katuski's commitment to quality, locally raised beef- even 4 hours drive north of Edmonton!  Interested only in the delicious hay in front of them, these Devon heifers show their docility, even after a 26 hour trip north and arrival in a new home.
Mark & Jenny Sabo, Sabo Ranch, Harrison, MT 406-685-3248.  saboranch1@gmail.com.
Beef Cattle &Devon Cattle for Sale &Jersey Cattle for Sale saboranch on 15 May 2014
With all females, both Devon and Jersey, sold out from Sabo Ranch's 2013 calves, we are taking orders on this year's calf crop.  Two A2A2 Jersey heifers have been born already, with Devon bull calves already on the ground and more Devons to come!
Montana Springtime means sun and snow, and with 5 new calves born last night during this little storm, it's great to see that both mothers and babies are unphased!
One of our beautiful Devon heifer calves, just born last night and perky with energy and good colostrum.
Snow's melted by afternoon, nitrogen and moisture blessing the grasses.  Even the little A2 Jersey heifer "Ursa", born to Lula (an unusual black full Jersey) last night is out frolicking in the spring green.
Interested in placing an order for spring 2015 delivery of a Sabo Ranch Devon or an A2 Jersey heifer?  Give us a call at 406-685-3248, or email at saboranch1@gmail.com.
Articles &Beef Cattle &Dairy Cattle &Devon Cattle for Sale &Jersey Cattle for Sale saboranch on 19 Mar 2014
Most of us would like to choose the sex of our calves, at least part of the time.  Dairy herds resort to expensive sexed semen, which still contains a good percentage of Y sperm, and still often results in bull calves.
There is a better, and often more certain way to obtain the sex you WANT from your best cows.  That 14 year old mother cow who calves every year on a 365 day cycle without a whisper of trouble, and gives you one of the biggest calves in your herd?  Wouldn't her bull make a great herd bull for your next generation?  How about that beautiful family Jersey with the world's creamiest milk- don't you want heifer after heifer out of her?
With careful planning and a minimum of effort and extra expense, there is an easy way to achieve the desired sex of your upcoming calf.
It has to do with the HEALTH OF YOUR COW!  A cow must be well mineralized and have a body pH that is moderately alkaline to conceive a HEIFER.  If her body pH is more acid, she has a high likelihood of conceiving a BULL.  Yes, the bull has a hand in it, but the cow is in control.  Have you ever noticed that the majority of calves in the front end of your calving season are usually heifers?  Those are the healthiest cows- they bred up, or bred back, the most quickly last year.
How do you get there?
Here are several tips that have worked for us in conceiving the calf sexes that we'd like:
1.  Remineralize your pastures!  The most expensive method up front, but the one that gives the most returns to YOUR ranch over time, is to improve the health and productivity of your own soils.  Minerals are most available to the cattle from mineralized, healthy plants.
2.  Mineralize your cattle!  While cattle would rather get their minerals from healthy plants, the bacteria in their gut can digest and incorporate ground up rocks from the mineral box.  Purebred cattle, with their lack of hybrid vigor (yet how could we have hybrids without those purebred genetics??) DO probably need a better mineral program than commercial hybrids.
We have had the best luck with Jim Helfter's ABC Plus free choice mineral program- 100% conception, 100% healthy calves across 5 years- a record that pays for the more expensive minerals.  We tried Mark Bader's Free Choice minerals, but lost 6 out of 31 calves to anemia- never took their first breath, or died within 24 hours- pretty expensive!  We have also talked with numerous cattle producers, from around the country, whose cattle "will not conceive & carry a calf with artificial insemination", or "who only conceive bulls, not replacement heifers!"  Our universal advice is to improve their mineral program.  Cattle KNOW what they need on a daily, seasonally adjusted basis.  Give them choices, and they'll keep themselves healthy.
3.  Give your mineralized cows adequate rest after nursing that calf, before calving again.  While most cows CAN calve out healthy calves, and rebreed, with only a 45-60 day dry period, their body recovery and condition is more likely to conceive a bull.
We have found that if we give our average cows- Devons, crossbreds, or the higher producing Jerseys, all 100% grassfed- at least 80 "dry" days, and then rebreed them in the 70+days postpartum window, we'll get heifers.
The highest producing cattle, usually the ones that are thinnest going into the dry period and have raised the biggest calves, might need a longer dry period, and an 80-90 day rest post partum while they are only nursing, to give you a heifer.  Three of our smallest commercial red cows (who were also raising the fattest calves with the highest meat-to-bone ratio) received 150 days rest after their 5th consecutive bull calf, the last of which we sold as grassfed veal last year.  Each one of them conceived a heifer the following year.
If our goal is bulls, we can stress our cattle a bit more.  Good minerals are still a must, as deep bodied bulls only come from healthy mothers.  However, if one allows last year's calf to nurse a bit longer- a 60 day dry period for the cow- or rebreeds that cow quickly postpartum, at 45-60 days, the next year's calf is likely to be a bull.
4.  Select and cull your BREEDING herd, keeping only the healthiest cows.  Keep the cows with the 365 day breeding seasons (the next healthy calf arrives 365 days after the previous one).  Those cows have proven their genetic herd worth.  Fertility, mothering, ease of calving, longevity, are all embodied in those older cows.  No sense selling the "average" ones if they still work for you.  Just don't keep their offspring in the breeding herd- that's where your sale barn or retail beef program comes in handy!
These "best cows" will still give adequate bull calves to maintain the development of sale bulls, but you'll be able to build your replacement heifers easily, and have plenty to sell over time as replacements and breeding stock for others.  We only make real money on a cow AFTER her 4th calf.  The best breeders have a good stock of old ladies, still producing healthy calves!  That's where we should be seeking our next round of semen, should we go "off ranch" for new genetics.
I always ask WHY do cows conceive like this?  My theory:
The male offspring of a "cow interested in genetic longevity", a bull, normally gets a LOT of chances to create that cow's grandchildren.  If she's a bit stressed at conception, her genetics will pass down more easily with a bull calf.
The female offspring of that same foresighted cow will only bear a few calves during HER lifespan.  Far better to conceive that heifer calf with the possibility of deep heart girth, great mineralization, adequate body fat to carry that heifer calf to a healthy, strong birth, and healthy "grand calves"!
Have fun, fall in love with the old ladies who still have healthy heifer calves at their sides, and enjoy the challenge of building sturdy, low maintenance, sustainable genetics for the 21st century of grassfed producers!
Beef Cattle &Devon Cattle for Sale saboranch on 19 Mar 2014
Sabo Ranch commits to NOT BABYING OUR HEIFERS!
Weaned 3/16/14, at 9 months old (notice the awful March corral mud!), these fullblood Devon heifers will continue on a "range diet".  No feedlots for these girls!  We'll give them just enough hay to do well, then dry rangeland grazing for the rest of their summer lives until breeding.  They are bred and raised at Sabo Ranch to do well in the arid West!  They'll thrive on whatever your ranch has, without needing pampering, feed bunks, extra rations, or fancy fermented feeds.  We treat these girls just like any other range cow, so you can do the same.
All Sabo Ranch cattle are 100% GRASSFED!
Fullblood Devon heifers(weaning weight avg. 570lbs) and Devon/Angus heifers(weaning weight avg. 633 lbs) available for sale.  Call for pricing and availability.
Sabo Ranch, P.O.Box 65, Harrison, MT 59735.  406-685-3248. saboranch1@gmail.com
Beef Cattle &Devon Cattle for Sale &Grass Fed Beef Sales saboranch on 04 Sep 2012
Sabo Ranch is pleased to offer semen from our two registered Rotokawa Devon bulls, SABO EBAN and his full brother SABO DANIEL.  We have used these two bulls for three years in our own herd of fullblood Devon cows, and Red and Black Angus cows.  We love his offspring!  Gentle, deep bodied, strong.
Contact us for availability, Mark & Jenny Sabo, 406-685-3248.  $25.00/straw.
Sabo Ranch, 303 Pony Rd., Harrison, MT 59735   406-685-3248   saboranch1@gmail.com
Prices subject to change without notice.