Category ArchiveDevon Cattle for Sale
Devon Cattle for Sale saboranch on 24 May 2016
This will be our first year to contribute Devons and Devon influenced cattle to the RED DEVON USA Show and Sale, September 8-10 in Dubuque, Iowa.
SABO PABLO H-(USA)902 is prepping himself, eating whatever's put in front of him, growing and gaining.  Born May 6, 2014, Sired by Sabo Eban, dam Rotokawa 398/10.
We have selected Pablo for his structural correctness, fertility, docility, and ability to gain.   His dam, Rotokawa 398 is one of the original Rotokawa herd from Bakewell Reproduction imported from New Zealand to Massachusetts.  She arrived here as a young yearling and has produced a strong calf each year since she was 3 years old, averaging a 359 day interval between calves.
Sabo Ranch will also be bringing several registered young Devon heifers, and 4-6 pairs of red Devon influenced commercial cattle, bred back to Pablo and his two half brothers Sabo Taj and Sabo Vadim.
Sabo Ranch, 303 Pony Rd., Harrison, MT 59735.  406-451-6900.  saboranch1@gmail.com.  Facebook.
Devon Cattle for Sale &Devon Semen for SALE saboranch on 22 Apr 2016
New questions are arriving as we work with other Montana producers in the creation of a dependable working commercial DEVON cattle herd.  Do you have dependable HEIFER BULLS?
As a heritage breed, Devons have always been known for mothering, gourmet beef, docility and fertility.  However, after calving out an 86 lb heifer and an 89 lb bull calf from two 36 month old Devon heifers from Brookfield Farm in Kentucky, we know that that bull won't be on our heifer list!
Luckily, we will be testing a couple of really nice smaller Devon bulls born here at SABO RANCH in 2014. We have begun the search for Devons that give small enough calves that the normal commercial breeder in the American West can count on using them for a gourmet grass fed/grass finished beef program, even from the first calf those commercial heifers give.  Since North Devon cattle (also known as Ruby Reds) in North America were listed on the brink of extinction only a decade ago, it's exciting to see that their attributes are already recognized in the world of low-input grass finishing.
Devons excel in the arid, challenging fields of the Rocky Mountain West.  They calve out easily, they protect their calves vigorously against canid predators, and they are excellent attentive mothers.  And the DEVON HYBRIDS???  Strong, beefy, FAST growing, and already proving that they can easily provide CHOICE boxed beef with a 60% beef cut-out on a grass-finished carcass.
The major commercial black breed has been at this EPD program for over 60 years.  We are starting with the breed always known as THE BUTCHER'S BREED.  Now, we working hard to turn it into THE RANCHER'S BREED.
Subscribe to our blog to hear firsthand how we are progressing in this exciting project.
Questions?  Call Jenny and Mark Sabo at 406-451-6900, SABO RANCH, Harrison, MT 59735
Beef Cattle &Devon Cattle for Sale saboranch on 16 Apr 2016
One of the aspects of calving that I love most is the care and love that good mother cows give to their calves.  While human-style hugs with arms aren't in the picture, snuggles certainly are!  All over the field on a quiet, sunny morning, we find calves tucked into the warm embrace of their loving mothers.
Joy.
Devon Cattle for Sale &Uncategorized saboranch on 28 Mar 2016
We are excited to announce that after more than a year of waiting in the U.S., and the hard work of Australian Red Devon breeders Vic Edwards (VixDevons) and Alison Heap (Gowan Ross Devons), that the semen of Vix Jurassic J76(P) and Gowan Ross Gentleman G82(P) has arrived in the U. S.
Udders and Feet, and "Do-ability" in adverse conditions- that's what we sought when we visited VixDevons and Gowan Ross!  Here's a photo of Jurassic's dam- just plain a beautiful working animal.
We will breed many of our current herd of Devon cattle to those bulls this year, and we can't wait to see these Australian calves on the ground, and see how these award winning Devon genetics do in the wide dry fields of Montana.
We thank Vic and Alison for their generosity in hosting us at their Devon cattle station in January 2015, for opening doors to other Devon stations in their region, and for all the hard work and rigorous selection process that has brought the genetics from their award winning herds here to the U.S. to further enrich the Devon breed which we all love so well.
Sabo Ranch, P.O.Box 65, Harrison, MT 59735. 406-451-6900. saboranch1@gmail.com.
Articles &Beef Cattle &Devon Cattle for Sale saboranch on 02 Mar 2016
We have often heard that raising beef increases planetary methane from cattle flatulence.
HOWEVER, more GRASS FED beef often means that grasslands are improved for increased beef production. And, an improved grassland means a pasture that is dense with forage plants.
That means more oxygen, less carbon dioxide, and cleaner air!
Also, many grasslands are too arid, too steep, or just too rugged for farm machinery- so grass-fed beef is often able to be raised on ground that is not suitable for conventional motorized agriculture.

From the steppes of Mongolia and Kazakhstan, to the Serengeti plains of Africa, to the arid grasslands of the American West, GRASS grows BEEF.
Interested in supporting soil that grows grass?  Soil that stays covered in perennial forages, which protect against wind and water erosion?
Sabo Ranch Grass Fed Beef, available by the Quarter, Half, or Whole Beef, or Burger by the pound.
Call us at 406-451-6900.  Sabo Ranch, 303 Pony Rd., Harrison, MT 59735
Beef Cattle &Devon Cattle for Sale saboranch on 06 Feb 2016
Sabo Ranch Devons in Harrison, MT, is pleased to announce that we have some excellent commercial purebred Devon bulls for sale.  Devons, known as "the butcher's breed" for their excellent intramuscular fat, docility, and easy forage-to-meat fattening qualities are highly sought for GRASS FED  BEEF operations.
Devon influenced steers, when compared to pure Angus steers in a feeding program in the Midwest, finished TWICE as fast, in 60 days as opposed to 120, in a conventional feedlot system.
SABO RANCH DEVON BULLS, docile, fertile, and easy keeping, are the answer to a grass-fed operator's needs for low cost finishing of steers on forage, and easy keeping replacement females.
Sired by  SABO EBAN (registered Devon bull) these commercial young Devon bulls, born in May, 2014, are ready to add real pounds at NO extra feed cost to your grass-fed beef operation.  Our own Devon/Angus steers routinely produce a 55-60% cutout on a 900+ lb carcass, 100% grass fed, at 20-24 months of age.
HEIFER BULLS ALSO AVAILABLE. These are smaller birthweight bulls, still Rotokawa genetics for excellent marbling and easy keeping.
Call for pricing, more photos, and bull availability.  Jenny and Mark Sabo, Sabo Ranch, P.O.Box 65, Harrison, MT 59735.  (406)451-6900 cell, saboranch1@gmail.com
Devon Cattle for Sale &Devon Embryos for SALE saboranch on 26 Oct 2015
Sabo Ranch announces that we have frozen DEVON EMBRYOS for sale.  Healthy, deeply mineralized cows and bulls for the best available embryos!  We have selected registered Devon cows for fertility, conformation, and mothering.  Registered Devon Bulls were selected for conformation, temperament, and outcross vigor.
CANADIAN and U.S. DEVON BREEDERS!!: We can implant these embryos into quality Angus cows here in Montana (summer 2016), and the resultant 80-day pregnant Angus cows can easily be imported into Canada.   This is an excellent way to import the highest quality Devon genetics— you receive fullblood Devon calves, and a quality commercial Angus mother cow for your ranch at the end of the process.   Live embryos will be available, summer 2016.   Contact Sabo Ranch at 406-685-3248, saboranch1@gmail.com for more information.
Te Maewa OBAN 867-11-H (born 2011) has just been imported by Sabo Ranch into the U.S. from New Zealand.  He is selected for depth of body, temperament, and excellent genetic lines throughout.  These Oban embryos will allow you to be among the FIRST North Americans to have OBAN offspring on your operation!
Tapuwae 635-P (New Zealand, born 2006) has never been available paired with these terrific Rotokawa Devon cows.
$500 each embryo, FOB Belgrade, MT.  Pairings are listed below.  Available while supplies last, prices subject to change without notice.
Tapuwae 635(photo taken Feb. 2015)/Sabo QUINN(heifer)
Te Maewa OBAN 867-11/Rotokawa 414(2nd calf cow)
Tapuwae 635/ Rotokawa 357 (3rd calf cow)
Questions?:  Contact Sabo Ranch, Mark and Jenny Sabo, 406-685-3248, saboranch1@gmail.com, P.O.Box 65, Harrison, MT 59735.
Devon Cattle for Sale &Devon Semen for SALE saboranch on 28 Jun 2015
Way back in the beginning we purchased many units of the original Rotokawa Devon semen, imported by Bakewell Reproductive Center before 2007. With some wonderful males and females in our herd representing each of these magnificent bulls, we have decided to let some of these straws go to others who might want to incorporate some of the ORIGINAL ROTOKAWA DEVON BULLS into their own herds.
LIMITED SUPPLY- FIRST COME FIRST SERVED.
Rotokawa 861- 40 units available, $100 each.
Rotokawa 667- 8 units available, $100 each.  We like every one of our 667 offspring.  Moderate framed, long bodied, great feet.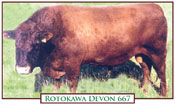 Rotokawa 974- 29 units available, $75 each (son of Rotokawa 667)  Beautiful, deep, long-bodied offspring.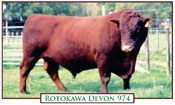 This semen is stored in Montana.  Contact us at 406-685-3248, or saboranch1@gmail.com, with queries or to place your order.  Payment by check for semen can be sent directly to SABO RANCH, P.O.Box 65, Harrison, MT 59735.  Once the semen is purchased, we'll put you in contact with the shipper so you can find out your costs to ship the semen to your farm.
Mark and Jenny Sabo
SABO RANCH, 303 Pony Rd., Harrison, MT 59735  (406)451-6900
saboranch1@gmail.com
Devon Cattle for Sale &Devon Semen for SALE saboranch on 25 May 2015
Sabo Ranch is pleased to announce the arrival of NEW DEVON SEMEN tested for sale to CANADA and the UNITED STATES.
Pedigree and Breed information below. Questions?  (406)685-3248, or saboranch1@gmail.com.
$38/straw, purchaser pays for shipping from Iowa.
The PERFECT "Inline Outcross" for owners of Rotokawa Devon cattle!
TE MAEWA OBAN 867/11(H) semen has arrived! Limited quantities available.
"He has really grown out since you seen him, after servicing the cows last year I put him on the scales and he weighed in at 1110kilos. If you want to look up his revised Breedplan figures on the NZ website his herd number is 170711867. He is now a trait leader for 200 day weight.  His calves are some of the best I have ever bred."  Graeme Dyk  April 2016
 Jan. 2015 News from Graeme Dyk, Oban's breeder in New Zealand.  "You wouldn't pick Oban as the same bull (from when we saw him in January 2015). He has really filled out and beefed up and when I weighed him last he was 1055 kilograms with still growing to do. Once again last calving, no calves pulled or cows assisted and his calves weighing from 35-45 kilo. Most in the 38-42 kilo range. His calves really stand out in the paddock amongst the rest." October 2015
                                                 TE MAEWA OBAN 867/11  (see pedigree below)
Oban, January 2015
This past winter, in January and February, 2015, Mark and I and our 2 boys were pleased to tour numerous Australian and New Zealand Devon studs.   Lots of terrific bulls, and we are importing some of them– to be available in the US and Canada!  TE MAEWA OBAN has arrived!  If all goes well, we'll also be selling Tapuwae, and VixDevons semen before long, tested for sale in both Canada and the U.S.
Graeme Dyk's Te Maewa Devon stud is a beautiful farm in the central north island of New Zealand.  Steep is not the word- many pastures would qualify as "precipitous"!  Yes, Te Maewa's Devons thrive here, scaling the paddocks, putting on pounds, and producing beautiful, deep bodied Devons with strength, gourmet quality beef, and fertility all in one package.
Two Te Maewa Devon lactating cows.  Demonstrating how to keep on weight in steep paddocks, and the beautiful conformation that is consistent in the Te Maewa herd.
Another beautiful Te Maewa cow, showing off the udders which we have selected with Te Maewa Oban's genetics.
Graeme, with four-wheeler and dog at the right, gathers heifers out of a paddock.  Incredible country, and the Devons move about like goats!
Having just tagged and weighed the calf, Graeme and the mother cow chat about its virtues.  Graeme keeps ONLY the calm cows!
EBV information:  Gestation length +1.5 days.  Birth weight +7.2kg.  200 day weight +28kg.  400 day weight +40kg.  600 day weight +57kg.  Milk +5kg.  Carcass weight +5kg. Eye Muscle area +1.1(sq cm).  Rib Fat +0.3(mm).  Rump Fat +0.4(mm).  Retail Beef Yield +0.6(%).  IMF-0.2(%).
QUESTIONS?:  Mark & Jenny Sabo, SABO RANCH, 303 Pony Rd., Harrison, MT 59735. (406-685-3248). saboranch1@gmail.com
Here's what Te Maewa owner Graeme Dyk has to say about his herd:
"The Stud, 120 purebred registered cows still mainly based on Rotokawa genetics, is run as a commercial operation, no pampering, indoor stalls or hard feed etc. All heifers are expected to calve unassisted as two year olds. Birth and performance recording with Breedplan are undertaken and all young stock are carcass scanned and blood tested BVD negative."
"Cattle are run in management groups to ensure cow breeding values are assessed correctly. The less efficient cows are culled to the works every year, the motto being (Breed with the Best and Cull the Rest). Cows are retired for age at fourteen years if still in the herd. Herd T.B Status is C10."
"Calving percentages of 100% have been achieved several years but is normally around 96-97%. Calves are weighed, tagged and recorded in the paddock as soon as they are seen and at three or four days old are debudded if needed and shifted further afield with mum to more tree sheltered paddocks. The top weaning weights achieved to date for bull calves is 360kg @ 224 days and heifers 316kg @ 258 days. Winter supplements (hay and baleage) is given to calving cows to enable the feeding of magnesium oxide at a rate of 1 standard bale to 10 cows per day , and older bulls on crop to give them roughage. All young stock fend for themselves mixed in amongst sheep."
Sabo Ranch, (406)685-3248.  Harrison, MT 59735. saboranch1@gmail.com
Beef Cattle &Devon Cattle for Sale saboranch on 15 May 2014
We are proud to be able to support Kevin and Theresa Katuski's commitment to quality, locally raised beef- even 4 hours drive north of Edmonton!  Interested only in the delicious hay in front of them, these Devon heifers show their docility, even after a 26 hour trip north and arrival in a new home.
Mark & Jenny Sabo, Sabo Ranch, Harrison, MT 406-685-3248.  saboranch1@gmail.com.